Come join us for the experience of a lifetime.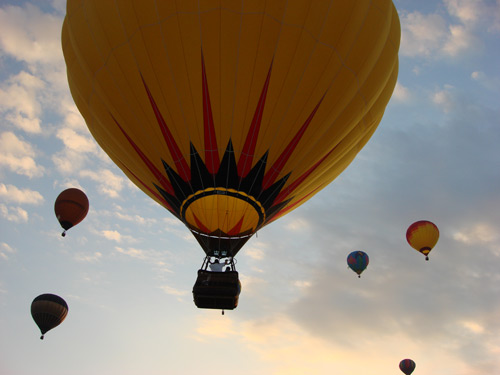 Gibboney's Aerostation invites you to join us aboard one of our balloon flights and trade in your earth-bound cares for the most magnificent experience of your life.
Hot air ballooning should be a must on your list of life's experiences. A hot air balloon ride is described by most as the biggest thrill of a lifetime. Riding the winds with seven stories of colorful fabric above you and enjoying panoramic views of the landscape and towns are just some of the joys of a hot air balloon adventure. The only way you really notice that you are flying is to look down to the ground and watch the houses and fields float by. With no engines to make noise, it is a serene quiet adventure through the sky.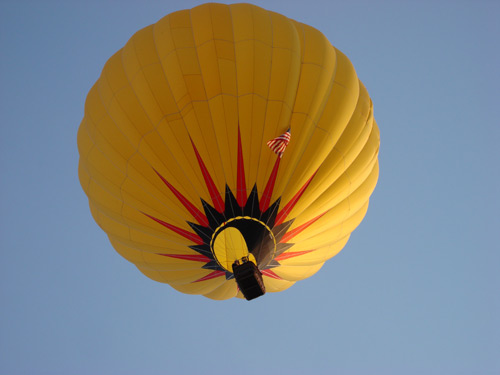 A full service balloon company serving central Ohio since 2000
Our FAA certified commercial pilots have a perfect safety record and use only commercially insured balloons and vehicles. In addition to balloon rides, we offer aerial advertising with company banners, managing corporate balloons, flight lessons, and crew training. We can provide tethered rides for wedding receptions, festivals and company parties. Let us design a balloon program for your company or event.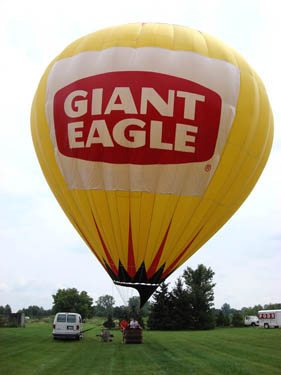 Reviews
Click here to submit your review.
---
---
Fantastic!
Apr 24, 2016
by
Brian Kramer
This was one of the best experiences of my life! Gibboney's Aerostation is a can't miss! If you are even remotely considering going on a ride, Gibboney's is who you want to fly with. Stew and his crew were fantastic. They made us feel as we were apart of the team helping set up and take down the balloon. The views were phenomenal and we could not have had a better flight. Oh ya, did I forget to mention that I proposed to my girlfriend on this ride at 4500 ft in the sky! Stew even brought champagne after to celebrate! Thanks for everything!

---
I was introduced to Stew by a good friend of mine who assists Stew throughout the balloon rides. As a commercial fixed wing pilot, I had a unique perspective and got hooked right away. I was in awe by the views, and the "still" air. Stew is a remarkable balloon pilot and his crew is very skilled and professional.

---
An event of historic proportions
Jul 28, 2015
by
Jeff Pinkerton
Attempting to cover 200 years of history in one calendar year is no easy task. So as the event coordinator for the Pike County (Ohio) Bicentennial celebrations, I asked our planning committee to join me in establishing a series of event themes tying together the story of our county. One theme centered on transportation and our choice of event was hot air balloon rides, relating to an iconic photograph taken years ago at a large gathering along the main thoroughfare in the county. From the first time our group contacted Stew until the completion of the event, he and his entire crew were courteous, very helpful, and professional in making sure the entire event was a success. We could not have asked for a better company to work with to make this the once-in-a-lifetime memory it was intended to be!

---
Best party enhancement ever
Jul 14, 2015
by
Terry Nitsch
We hosted a large gathering of family and friends for our annual pig roast. As a surprise for the group, we hired Stew for tethered balloon rides. Everybody loved it! Many people said they were able cross the balloon ride off their bucket lists.Stew and his crew were professional, courteous, and hung in there for two and one half hours worth of rides! It was definitely the highlight of our event.

---
Awesome experience
Jul 12, 2015
by
Miriam Poling
It was a pleasure to work with Stew Gibboney to arrange a surprise balloon ride for my husband's 50th birthday. Everything was perfect!
Stew was able to setup and lift off right from our front yard which made the surprise even that much more special! While in flight, we got to splash and rise on a lake, skim above the tree tops and corn fields, looked down on a soaring bald eagle, and saw impressive vistas! It was so peaceful and beautiful!. Stew is an awesome pilot! He picked a place where he wanted to land and landed it exactly there! He and his crew (Jeremy and Kristin) are wonderful! My husband even got to help with the setup and take down.

---
Awesome
Jul 06, 2015
by
Ted Gauss/Bonita Grant
Flew with Stew at the Ashland County Balloon Fest this past Friday. What an experience !
I think I'm addicted ! We got to help crew too! Very courteous and pleasant to fly with.

---
Jul 03, 2015
by
Skot Shockey
Flew with Stew a few years ago, and even crewed with him. Great Guy!! Looking at scheduling my next flight now!

---
What a nice guy
We have not been on our flight yet, however working with Mr. Gibboney has been a pleasure. I will submit another review when our flight date has passed.

---